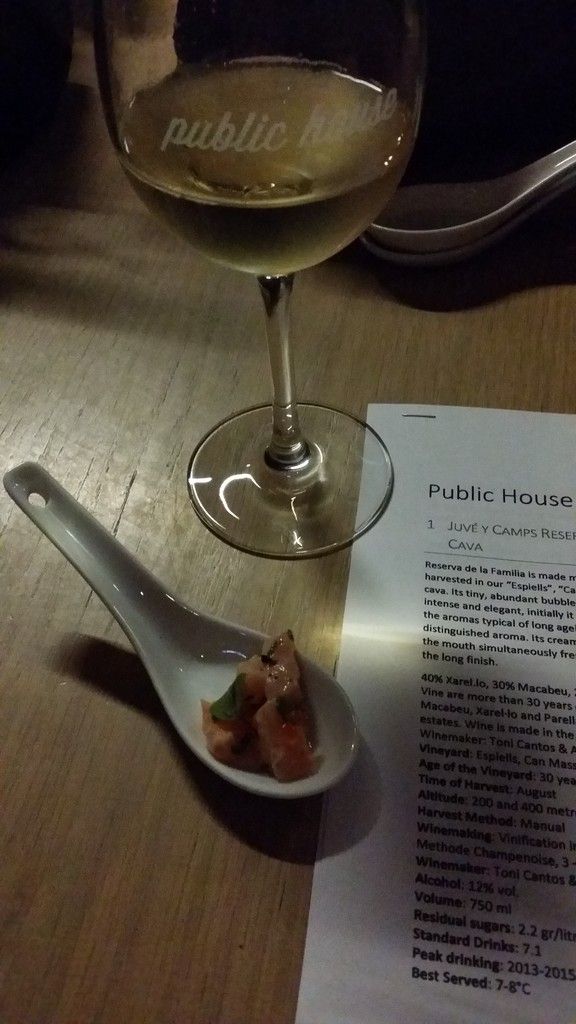 My brother has been trying to convince me to go to Public House for ages. He works around the corner from it, so hits it frequently for lunch and after work drinks. Based on his recommendation, I added it swiftly to the "To-Visit" list (which is ever-growing), but not working in the city means I don't go into the city that frequently. I tend to be more of a fringe dweller, hitting Mt. Lawley or Northbridge, rather than Perth proper. When the South American Lamb Feast came up as part of EatDrinkPerth, it was too good of an opportunity to pass up!
Talking to the chef (and backed up by my brother), most of the dishes that we ate on this event were similar, if not the same as what is regularly served on the menu at Public House. This was their first event like this (although the plan is to make it more regular), so they decided to make it easier on themselves by keeping with the basic foods they already serve. All paired with Spanish and South American wines.
We started with Cava and Ceviche. The fish lovely and fresh and delightfully limey. It was served drier than a lot of ceviches are, which made it the perfect canapé presentation. Cava is my go-to bubbly, I find it much easier to drink and full-bodied than a lot of sparklings – not to mention a cheaper option compared to Champagnes! The fruit/sweet/dryness is balanced and refreshing.
We were then seated, long-table style and presented with the first wine and some guacamole and house-made corn chips. Both were fabulous. My brother enjoys this guac, despite really not liking avocado. But it's perfectly seasoned and also with a nice limey/chilli kick which flavoured it enough for him. The chips were some of the best I've had. The perfect crunch, with a slight oiliness to them from the frying. Not enough to grease your fingers, just enough to flavour the tortilla.
All dishes were presented family-style – with share platters placed down for folks to dig in. A bit difficult when sharing with strangers, as you have to politely negotiate your "share" – but sharing food is the best way to start friendships, so it isn't long before you are chatting with the folks around you. Entrees were Smoked Lamb Sausage with Burnt Lime, Brazilian Espresso and Treacle Lamb Ribs and Lamb, Mushroom and Truffle Empanada. I think the stand-out dish here was the Lamb Ribs, partly because of presentation – a paint brush for adding extra sauce! But also because the rich sauce was so moreish. The coffee and treacle was a perfect match, with the treacle providing a mildly sweet counterpoint to the bitter richness of the coffee. It was sticky and dark, rather than sweet like a lot of BBQ style rib sauces. Definitely different! The Sausage was flavoursome and not overwhelmingly oily, which puts me off of a lot of sausages. The burnt lime cutting through the smoked meat perfectly. The lamb and mushroom empanada simple, but well-balanced. The filling rich, the pastry flaky and buttery.
The timing of the main meats and side dishes was a little off. The Spit Roast Lamb Shoulder came out and we divvied it up. When that was gone, the Chimmi Lamb Back Strap with Beetroot and Goat's Curd came out, as well as all 3 sides together (Baby Cos, Crispy Onion, Horse Radish,, Tomato, Palm Heart and Smoked Mozarella, Local Greens, Pisco Raisins, Brazil nut). By this point we were stuffed to the brim…and then the Charred Lamb Rack & Onion Textures came out. At the end of the whole meal, we were asked for feedback, again mentioning this was the first time they were trying something like this, and I mentioned this, so hopefully it was just them finding their function feet. The food was again, all delicious. The meats were perfectly cooked. Flavoursome and rich the way good lamb should be. Simply, but well seasoned to allow the meat to shine, but also using South American flavours. Smoke was present in all the flavours, and the smoked mozzarella, tomato and palm heart salad stood out to me as the best side. The sweet, rich and fresh elements were all present and played well together. As my husband pointed out to me, this smoked mozzarella also went well with the Chimmi Lamb Back Strap – more so than the softer flavoured Goat's Curd it came with, and it ramped up the earthiness of the beets as well. Three reds were presented during this extended course, two of them Malbecs of entirely different styles. Both with the trademark body of a Malbec that paired brilliantly with the South American BBQ flavours. Sadly, I was so distracted by the eating that I forgot to take photos. But it was also beautifully presented.
We were thankfully given a mini-break to finish our reds and rest a little before the dessert wine and desserts were brought out. There is always room for dessert – but the rest of the servings were incredibly generous, and tasty enough for you to not want to be stingy on your serves. The dessert wine was a hugely floral Moscatel, that paired particularly well with the lime and lemon curd dark chocolate tart. The citrus and flowers was delicious. This was my favourite dessert. The dulce de leche parfait was also spot on, sweet and creamy. The brownie was fairly dry and definitely needed the apricot compote that it came with.
All in all, it was a very good meal. The staff were lovely and attentive, and despite finding their footing a little, it was an ultimately well executed long table dinner. We enjoyed it so much, we stayed on for a coffee to finish off the night. It's a shame that this end of the city is so quiet on Saturday nights, as at the end of the meal, we were the only ones left in the restaurant