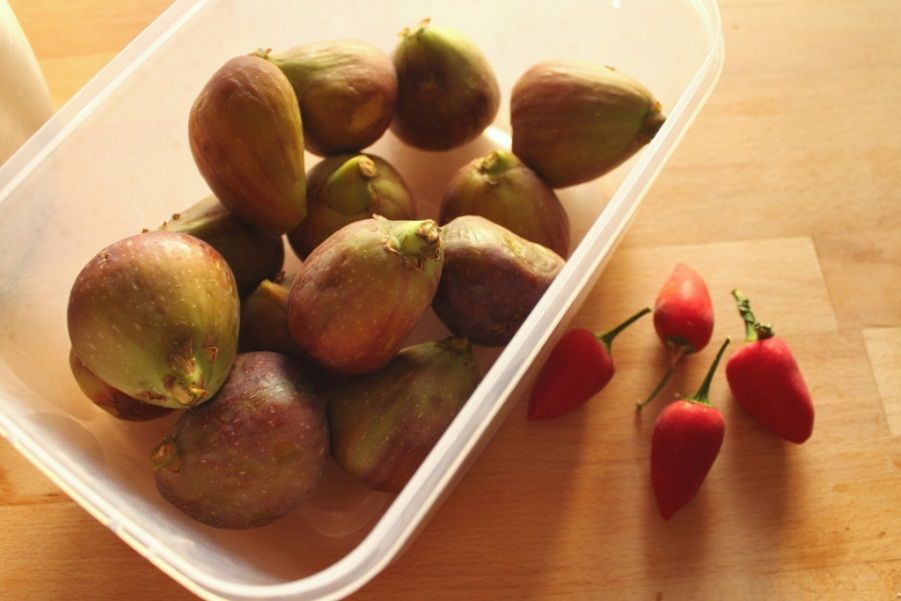 So you might be looking at this and thinking, really? ANOTHER fig recipe? But they're in season, they're plentiful and they're currently being supplied to me for free from a friend's tree. So I am using them in everything. And loving every single dish of them! And as they are in season, they're popping up on my Instagram feeds quite frequently and one that caught my eye was from Perth Breakfast – she was making a fig and chilli jam. Um…yum! Two of my favourite things in a jam! Something I was definitely going to try!
As you probably know by now if you've read this blog a few times, I am more than slightly addicted to tacos. So my mind immediately went to tacos for a good use of said jam. So beyond the fig jam, the next idea of these was to use a big range of textures. So you have the chewiness of the chorizo, the soft, squishiness of the zucchini, the pop of the corn kernels the crunch of the peanuts and the stickiness of the jam (is stickiness a texture??), the smoothness of the cheese and the crispness of the cucumber. All at once. And it was wonderful.
I used venison chorizo because I have a stockpile in my fridge. When we head down south for a weekend, we tend to stock up on a few products without fail. Venison chorizo, chilli beer sticks and kangaroo biltong from the Margaret River Venison Farm are high on that list. Being venison, it has a more intense flavour than standard chorizos, slightly gamey but not super obviously gamey. If that makes sense? It's perfect for adding sweet flavours like fig jam to. But any chorizo you'll have will work. I also served it with the jam still warm. Do this. It blends in with the cheese better as you eat it.
I was deliberately light on the chilli in the jam for two reasons. Firstly, the chorizo already has a heat to it and I didn't want to overdo the spice, but for all other purposes, I think I would prefer it hotter. And secondly, the jalapenos I used are from my own shrub and they are so inconsistent in their heat. Some are basically capsicum, some will knock your head off – I tend to err on the side of caution. I'm sure you know your own tolerance, add the chilli to your tastes. As per our Instagram conversation (and because I prefer natural sweeteners) the jam is sweetened with honey rather than white sugar. And traditionally, you would add some water but this I deliberately wanted super sticky and thick. You can add a cup of water to make a runnier jam.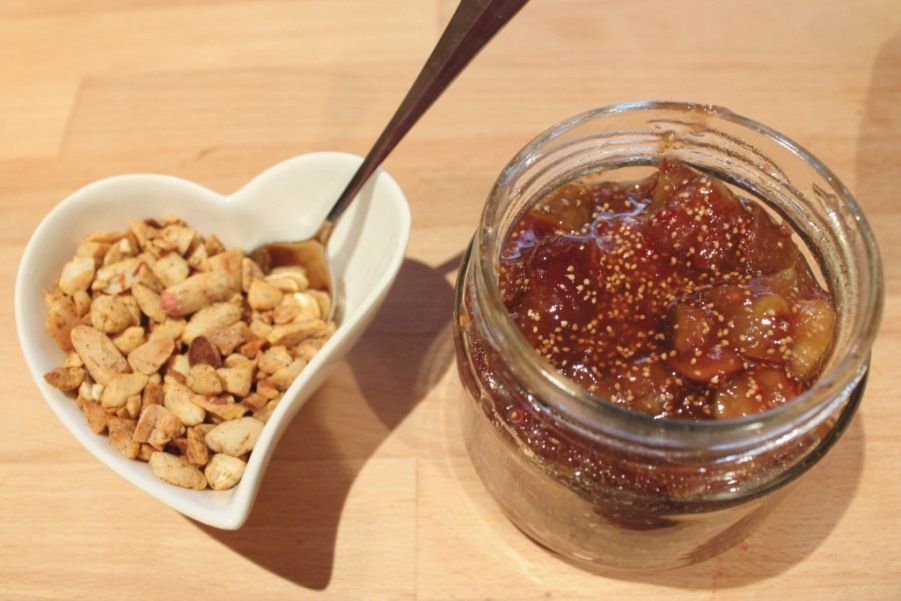 Chilli Fig Jam
(makes one 300g jar)
10 figs, cut into 1cm pieces
2 jalapenos, de-seeded and minced
2 tbsp apple cider vinegar
¼ cup honey
First up, make the jam. Add the figs, jalapenos, vinegar and honey to a small pot, bring up to a medium low heat and allow to simmer away for half an hour so until the figs start breaking down and the texture goes all jammy. Around half an hour or so. Bottle in a clean glass jar when still hot.
Spicy Peanuts
1 tsp butter
½ cup raw peanut kernels (no skins)
¼ tsp cumin seeds
¼ tsp smokey paprika
Pinch sea salt
Heat a frypan, melt the butter and throw the peanut kernels in, toss around for 2-3 minutes. Add the cumin seeds, paprika and salt, toss everything very well to blend. When the cumin seeds are at the 'popping' stage, the peanuts should be slightly brown and toasty. Remove to a serving bowl and allow to cool.
Chorizo Tacos
(serves 2)
1 chorizo sausage (around 250g)
1 medium zucchini, diced
½ cup corn kernels (fresh or frozen)
handful chopped coriander
To serve
Tortillas, cucumber strips, fetta (try get one that's smoother rather than dry and crumbly)
In the same frypan as above, add the diced chorizo pieces. Leave to fry 5 minutes or so for them to render out some of their fat and start to get crispy. Add the zucchini and corn, and cook for a further 5-10 minutes or so until the zucchini is cooked. At the end, stir through the coriander.
Serve all immediately with warmed tortillas.