On my recent holiday, I ate a lot of Cuban. A lot. It started at
Bar Pulpo
at the Melbourne Airport. And it was good. So rare to get good food at an airport! But I was really impressed. It made the 5 hour plane delay bearable! Then in the states, I went to a restaurant in New York that was recommended to me -
Coppelia
. And even though it's been two or so months since I've been there, I still consider it one of my favourite restaurants. It's a funky Latin diner style restaurant with ridiculously good, well-priced food. We went to another 4 Cuban restaurants in our trip and loved every single dish. So I came back and wishlisted a few Cuban cooking books on bookdepository (but if you have any recommendations for other good Latin and Cuban cookbooks to add to the list, I'd love to hear). So you can look forward to Skamp's versions of other Latin dishes!
Lance and I both fell in love with Coppelia's blue cornmeal crusted calamari with tamarind vinaigrette. We are haunted by it, so I am trying to create an "at-home" version. We don't get plantains in WA (or if you know of a place they're available, please, please, please let me know!!!) so I substituted bananas. Here's a photo of their version: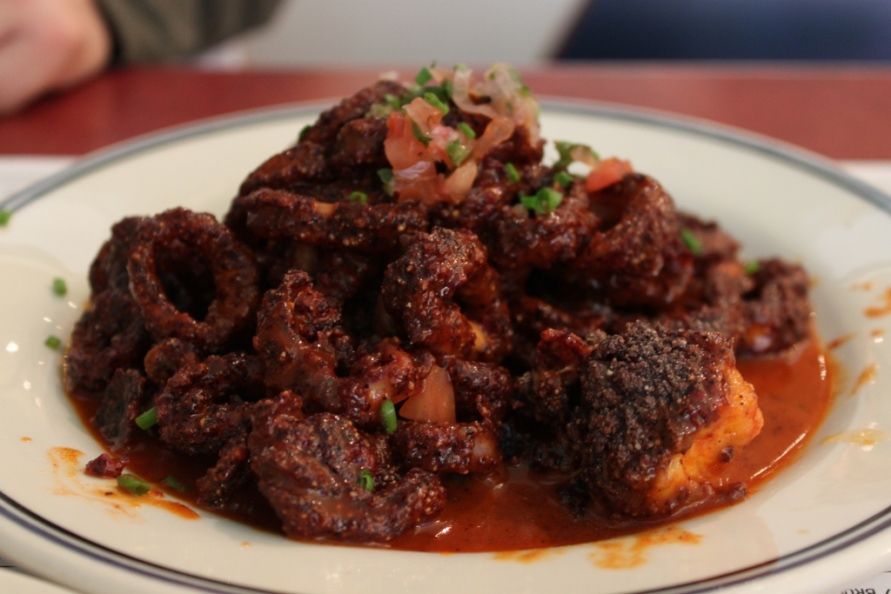 I couldn't find blue cornmeal, but I already had some blue corn flour (blue masa), which I used for the flour for the dusting as well as in the coating cornmeal. I get mine from one of my favourite shops in Perth - Kakulas. Using masa for the whole dish makes it naturally gluten free, if that's an issue for you.
To make the tamarind dressing, firstly you have to make tamarind syrup. There's a recipe here on my Kale Tamarind Salad
recipe.
You'll see in the pictures of my version, that it wasn't nearly saucy enough compared to theirs. When I heated the sauce, it reduced right down, so this recipe is double.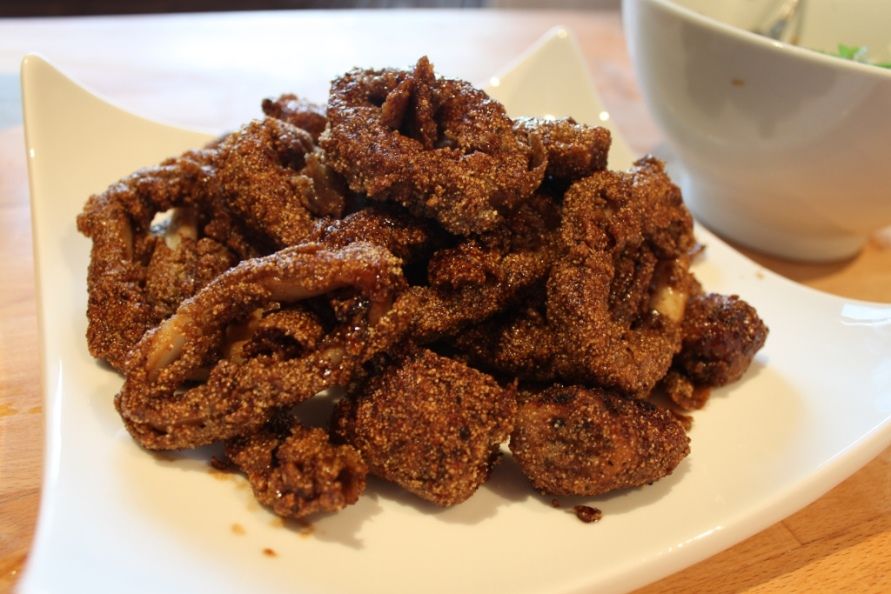 My verdict on it's similarity? Well, it's not quite the same, but it's still delicious. But my memory might also be failing me. I think the best thing to do would be to go back to New York to re-acquaint myself with the original!
1 cup rice bran oil for frying
2 firm but ripe bananas, cut into 3cm chunks
Flour mix
1/4 cup blue corn flour
1/2 tsp salt
1/2 tsp pepper
2 beaten eggs
Cornmeal mix
1/4 cup blue corn flour
1/4 cup cornmeal
1/2 tsp ancho chilli powder
1/2 tsp chipotle chilli powder
Tamarind Dressing
16 tbsp tamarind syrup
8 tbsp red wine vinegar
4 tbsp olive oil
4 tbsp cachaca
salt & pepper to taste
Have the flour mix, egg wash and cornmeal mix in three separate bowls, ready to go. Then an empty plate for the coated ring.
Dip each calamari ring in flour mix, shake to remove excess. Then the egg wash, shake to remove excess. Lastly coat with the cornmeal mix. Then coat the banana pieces in the same way.
Heat the rice bran oil in a wok or frypan - enough to create a shallow layer. Carefully splash a drop of water into the hot oil. If it sizzles, it's hot enough. Without crowding the pan, fry the calamari rings a few at a time, allowing to crispen and darken before turning over. It'll take a few minutes per side.
Place on paper towel lined plate and keep warm. Repeat with all rings until they're all cooked, then do the banana pieces, cooking each side until crispy.
In a separate pan, add all of the dressing ingredients and heat the pan to medium. Stir as it cooks for a minute or two until it reduces into a sticky sauce. carefully put the calamari and bananas in the sauce and stir to coat. Plate up, the drizzle the remaining sauce over the top.
Served here with a bean sprout, coriander, ginger and peanut salad.