Last weekend was spent raiding family members' gardens for herbs. Well, technically, we were visiting family, but as a happy offshoot of these visits, I came home with a nice swag of chillis, parsley, spring onions, basil, thyme and oregano. The basil, thyme and oregano was stored in the one bag and when I opened it up it smelt like pasta. Or pizza. It was crying out for tomatoes and garlic. I thought it only fair that I complied.
Sitting at work, looking out the window, the sky got steadily greyer, and heavier, and wetter. Summer is officially over, with this storm and the temperatures dropping. Ok, so it's still not super cold, but it's cooler. And it's been a while since we've had such snuggle-worthy, soup and bread weather. So I decided to just go with it. A steaming bowl of hot soup and some crunchy pizza bread to dip into it. Some of the positive aspects of winter! My husband isn't the hugest fan of "just" tomato soup, so as I drove home in the rain, I contemplated what I should add. Sitting at the lights and going through the vegetables I had at home, I decided to go with those colours. Red, orange and green. I know, I know, kinda lame. But it turned out delicious! Red tomatoes and chilli, orange pumpkin, sweet potato and carrots and lots and lots of green herbs.
I then followed through again with the garnish. Red bacon bits, orange soup and green parsley. I already had some cooked bacon bits in the fridge, but if you don't, dice up some bacon very finely, then fry for a few minutes until crispy.
Technically, a roast vegetable soup - but I'm calling it Traffic Light Soup.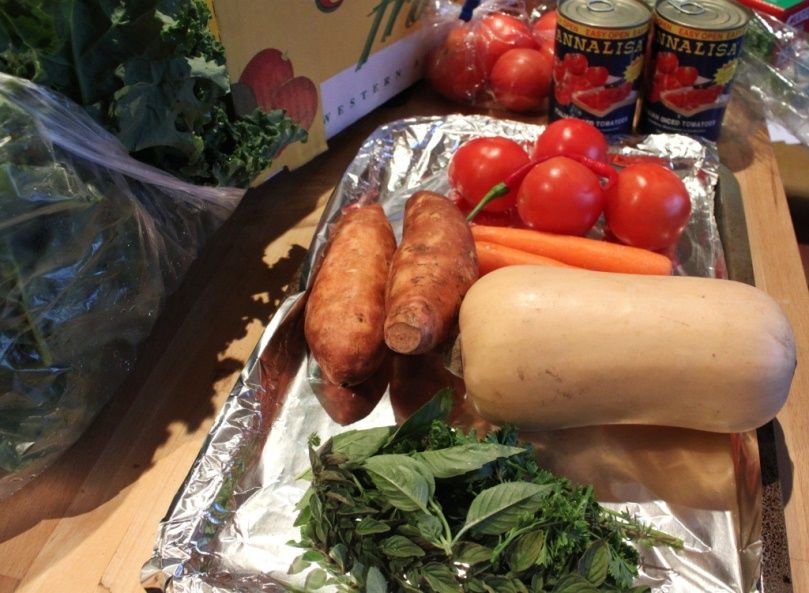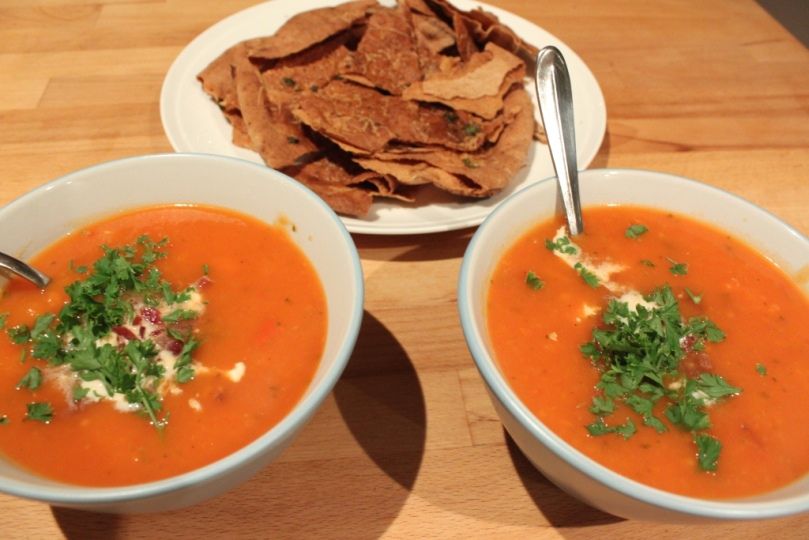 Traffic Light Soup
1 medium butternut pumpkin
2 medium sweet potatoes
4 small carrots
2 tbsp olive oil
a few sprigs of thyme
4 ripe tomatoes
2 cans diced tomato
big handful basil
big handful oregano
salt & pepper
1 brown onion
1 red chilli
4 cloves garlic
5 cans of water/stock
parsley
cream (or sour cream)
bacon bits
Preheat oven to 180C
Cut the pumpkin in half and scoop out the seeds. Lightly oil and place cut side down on baking tray, with a thyme sprig in the cavity. Slice the sweet potatoes and carrots in half length-wise, lightly oil and sprinkle in thyme leaves. Roast for 40 minutes or so until soft.
Mix the chopped herbs, salt, pepper into the tinned tomatoes, put in an oven proof dish and add the fresh tomatoes on top. Roast for 30 minutes or so, until the whole tomatoes fall apart when you touch them.
About 10 minutes before the vegetables are done roasting, saute the onion, chilli and garlic in a tbsp or so of olive oil until translucent. Fill the tomato cans with water to rinse out and add the liquid to the pot. All up I used 5 cans of liquid (3 water, 2 stock). Bring to the boil, then turn down to a simmer. Take the vegetables out of the oven. Add the tomatoes (carefully!!) into the pot. Allow the pumpkin and sweet potato to cool slightly, then skin and tip into the pot as well, along with the carrots. Stir it all around, then whizz it up until smooth with a stick blender. This can also be done in batches in a normal blender. Check for seasoning.
Swirl some cream over the top, sprinkle on some bacon bits and parsley.
Serve with your favourite bread. This pizza bread is just Lebanese loaves, garlic olive oil, parsley and parmesan, chucked in the oven for a few minutes.