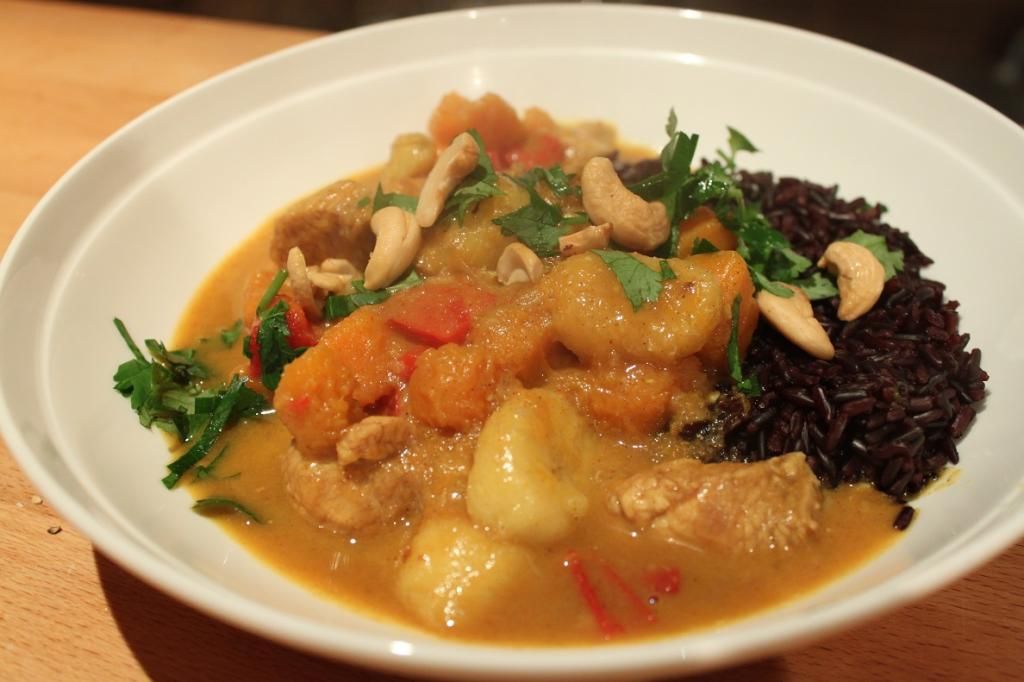 When Lance and I were dating, he took me to an Indian restaurant in Vic Park. Both of us particularly liked the Mango Chicken Curry at our local Indian takeaway, and so it was one of the dishes we ordered that night. It was served up in one of those beautiful copper bowls, which was sat on a plate. I accidentally knocked the plate and threw Mango Chicken Curry all over me. ALL over me. Lance just shook his head and laughed. "I can't take you anywhere!"
That story isn't hugely relevant to this recipe, but I wasn't too sure how to start this post and that story came to me. I guess it's because the Mango Curry is a sweet, fruity and mild curry, and this is too. Lance isn't a huge fan of banana (unless it is in a chocolate peanut butter smoothie), but he still really enjoyed the fruitiness it added to this curry. The secret is to use ripe, but still 'hard' bananas. You don't want them to break down too much, or be too sweet. The rest of the flavours are just normal curry spices. I don't know a great deal about cooking curries, I only know I enjoy eating them. So it's in no way traditional, but it is incredibly flavoursome.
So, if you're clumsy like I am, and you can't be taken anywhere, at least you can still have a good curry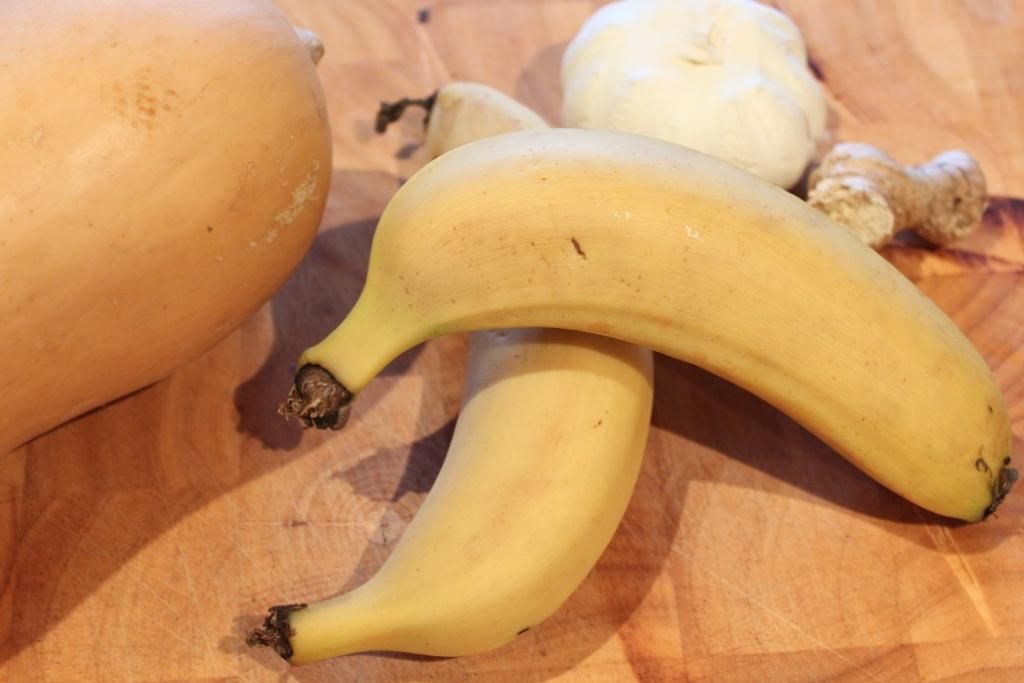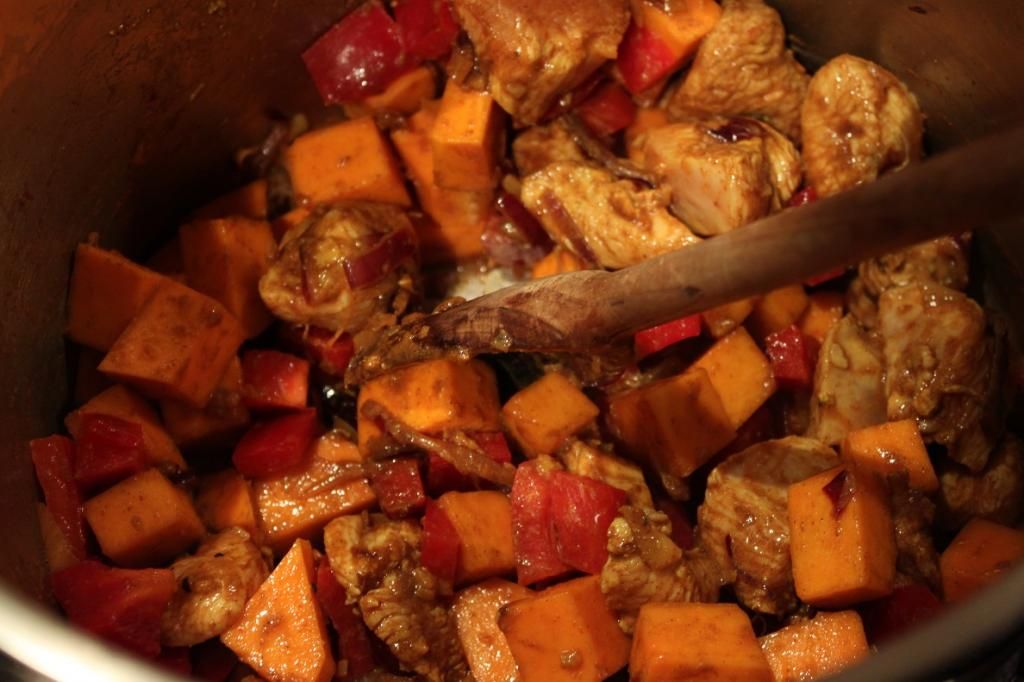 Pumpkin, Chicken and Banana Curry
2 tsp salt
2 tsp smoked paprika
2 tsp ground cinnamon
2 tsp pepper
1 tsp coriander seeds, ground
1 tsp cumin seeds, ground
1 tsp ground cardamom
1/4 tsp ground cloves
1/4 tsp ground nutmeg
3 cloves garlic, minced
1 brown onion, diced
thumbsize piece ginger, peeled and finely grated
1/2 butternut pumpkin, 2 cm dice
1 chicken breast, chopped into 2cm chunks
1 red capsicum, 1cm dice
1 tin coconut cream
2 firm but ripe bananas, peeled and cut into 2cm chunks
to serve
black rice
cashews
chopped coriander leaves


Heat a large pot to medium heat and place the dry spices in. Cook until nice and fragrant – around 1-2 minutes. Add a good splash of olive oil, then the onion, garlic and ginger, stirring well to coat in the spices. Cook for 10 minutes until the onion is translucent.

Add the chicken pieces and stir to brown, 5 minutes. Add in the capsicum and pumpkin, the coconut cream and rinse the can out with water (about 3/4 of the tin), adding that to the pot as well. Stir well, then put the lid on and simmer 15-20 minutes until the pumpkin is almost cooked through.
Add the banana pieces in for the last 10 minutes of cooking so they heat through, but don't completely break down.

Check for seasoning, then serve with black rice and cashews and coriander leaves, if desired