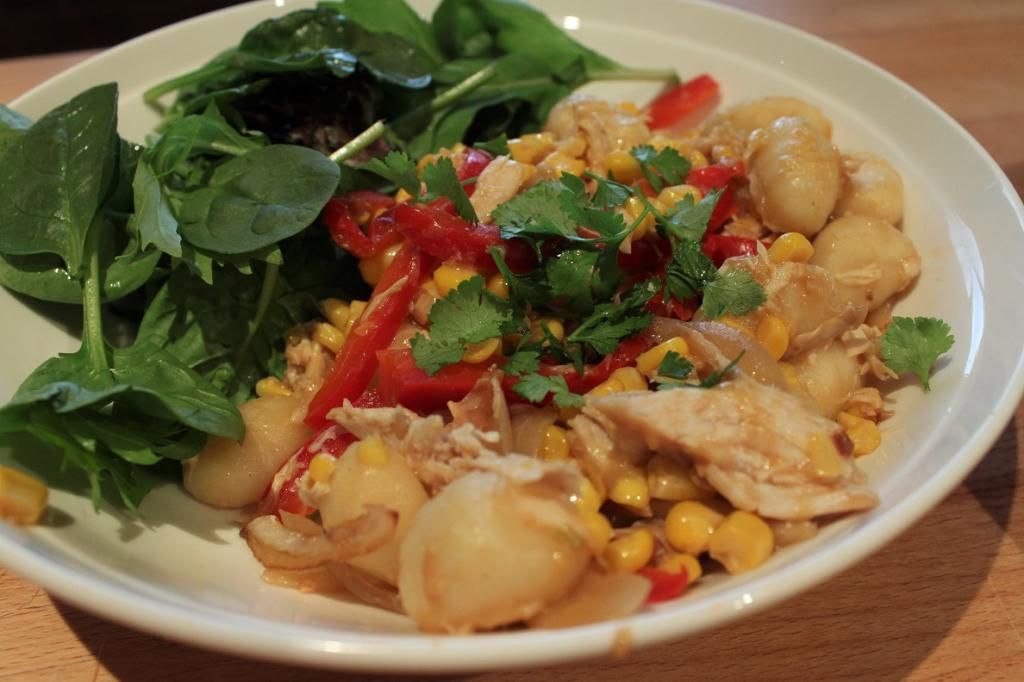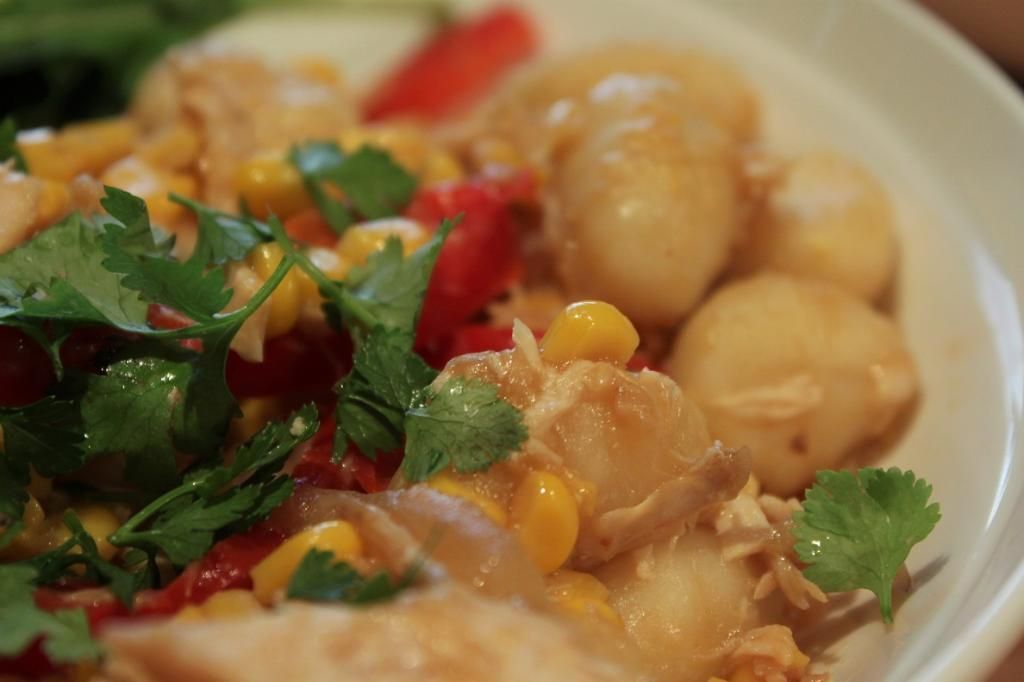 Our mango tree that was so incredibly prolific last year, hasn't been as fruitful this year. There are probably less than a quarter of them than last year, and we lost quite a few of those before they got anywhere near size. So when 4 green but still fairly mature mangoes fell, I decided to use them. I want my mango fix! I haven't had a great deal of green mango dishes. Here and there there's been green mango salads accompanying spicy Asian dishes but that's about it. These salads are usually wonderfully tart and salty. The green mango very sour in comparison to the crazy sweetness of a ripe mango. And the salt tames the sour and brings out more of the fruit flavour.
With that idea in mind, I created this pasta. I was in the mood for gnocchi, not sure why, but I was. And I had half a roast chicken leftover from the night before's dinner. Summer corn is plentiful and cheap at the moment, so that was going to be added. I thought I'd then round it out with a combination of ginger and coriander as a tip of the hat to the Asian green mango dishes and dark rum as a tip of the hat to the tropical feel of mango. And it worked so well! Salty chicken, sour green mango, sweet corn all working together with the rum to coat the soft pillows of gnocchi.
I only used two of our green mangoes, but I think I'll use the other two to just repeat this dish!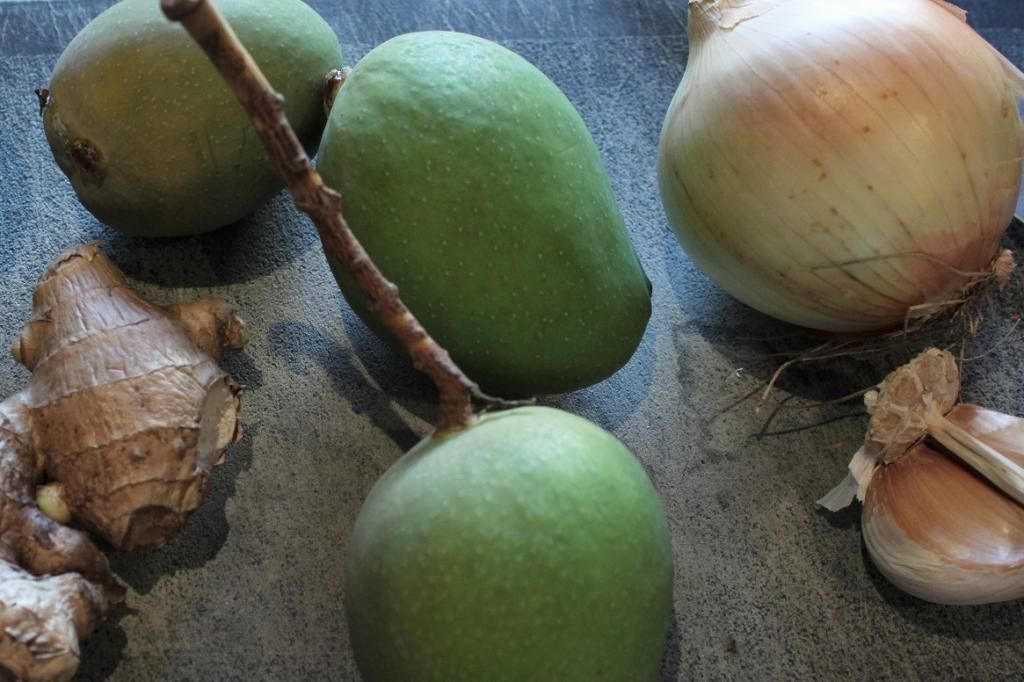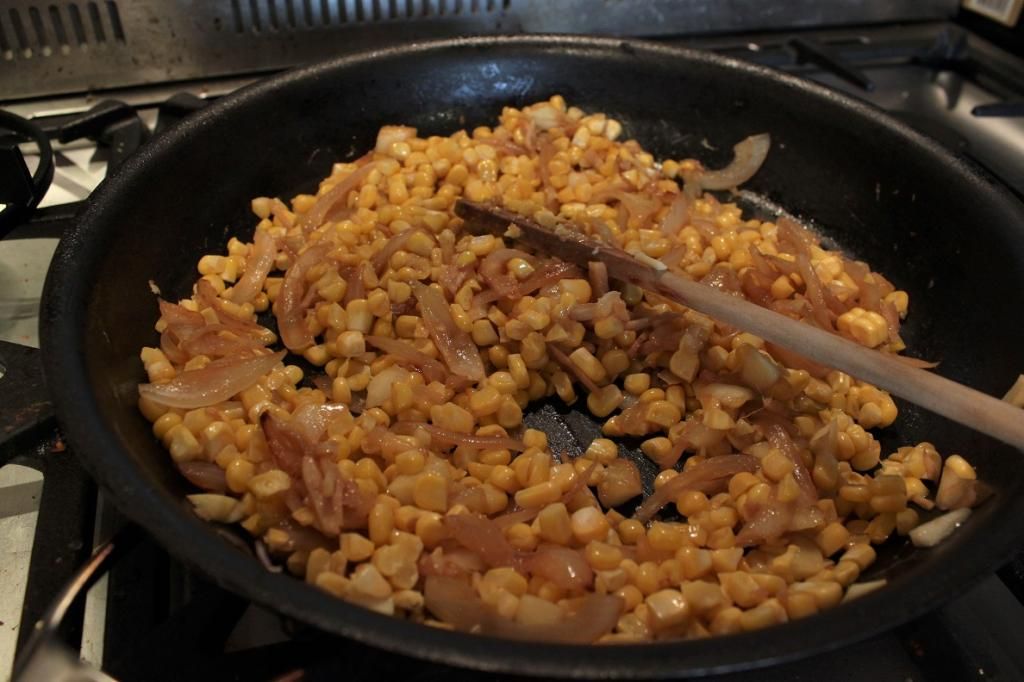 Chicken and Corn Gnocchi with Rum and Green Mango Sauce
(serves 3-4)
2 tbsp coconut oil
1 brown onion, sliced
3 cloves garlic, mince
Thumb size piece of ginger, peeled and thinly sliced
2 green mangoes, flesh cubed
50mL dark rum
100mL water
1 tsp salt
Kernels from 3 corn cobs
½ cooked chicken, meat shredded
½ red capsicum, sliced
1 packet pre-cooked gnocchi
Handful coriander leaves, chopped
Green chilli, sliced into rings
Heat the coconut oil to medium heat in a frypan. Add the onion slices and half the salt. Leave to cook, stirring here and there so they don't stick for around 10 minutes, or until lightly browned and caramelly. Add the garlic and ginger and cook until the garlic is translucent, around 2 minutes. Add the rum and simmer until reduced by about half and slightly sticky. Add the mango and corn and stir well to coat everything. Simmer until the corn is tender and the rum has reduced to the point where the corn is sticking to the pan in parts.
Add the water and remaining salt and stir to pick up any brown bits stuck to the pan and create a more cohesive sauce. Add in the chicken, capsicum and gnocchi, stirring well to coat in the sticky sauce and veges. Cook 5 minutes until the chicken and gnocchi are warmed through. Just before serving, stir through the coriander leaves and garnish with chilli slices.