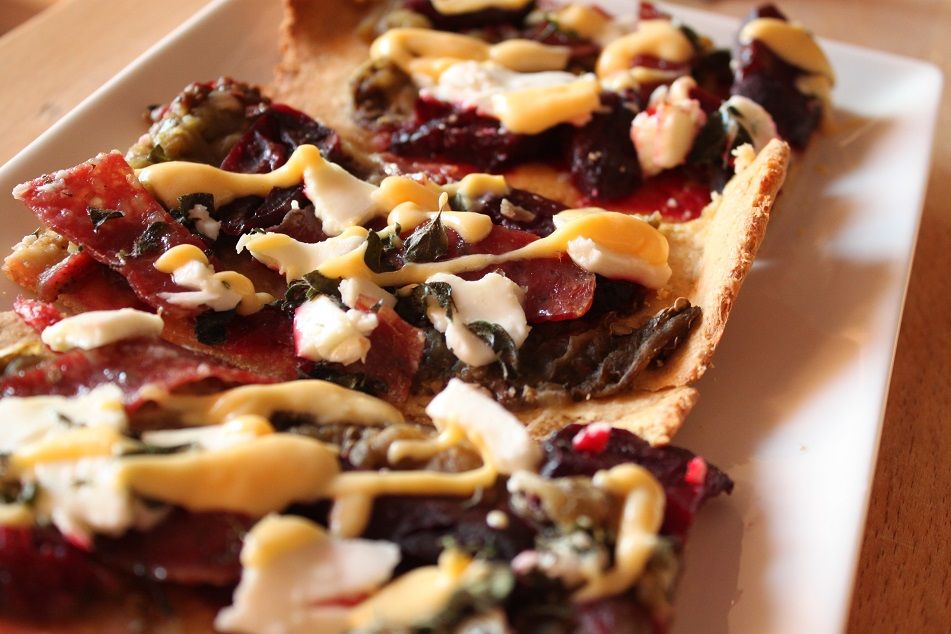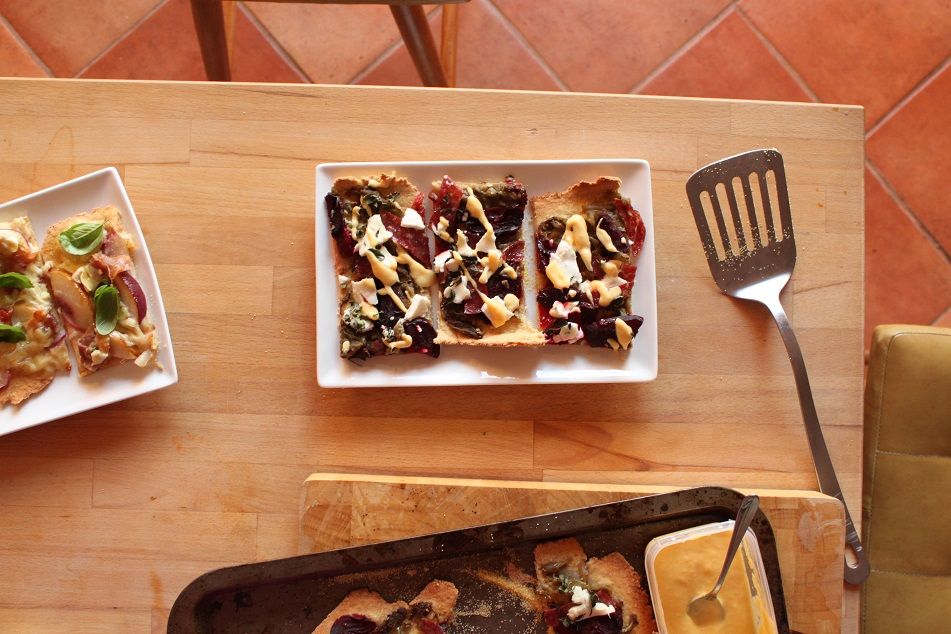 I have been crazy for pizza lately. For the last few months, we've had homemade pizza at least once a week. It's often on a Sunday, sitting out in the now cooling sunshine with a beer, or a glass of wine. Or, in this case, a glass or bubbles. I love building different flavour profiles in pizza and coming up with something a little fun and novel. The bases have all been the lentil/chickpea flour bases I made in this post here. I love the extra oomph of flavour that the chickpeas give the dough. Feel free to use whatever bases you want, but there really is only a little extra effort in making your own. Mix the dough, leave it to rise for half an hour while you prep the ingredients, then roll and assemble the pizzas.
This pizza was created after a trip to Kakulas without Lance. We have a rule in our house that Lance is not to be in charge of portion control. He instigated that rule himself after he assured me that he could eat a whole mess of herring that we caught on honeymoon. I was sceptical, but cooked it all and nothing else. Just the herring. Luckily. It was a crazy amount of fish. He understood this, and now it's up to me to decide on portion control. So I think I might have to instigate a rule that I shouldn't go to Kakulas without Lance. He talks me down and makes me be more sensible with my cheese and cured meats purchases. Without him asking me, repeatedly, if we *really* need that AS WELL, and when will we get to eat all of this cheese, especially when we're out for meals all weekend and the first few days of the week, well…I get a little bit ridiculous. And my basket gets piled high with various gourmet cheeses and salamis and serrano and…well, you get the idea. And I only went in to get one or two things.
But, I knew I was going to make pizza. And I knew I was going to use roast eggplant and beetroot on the pizza. So I knew that I wanted a gorgeous fennel salami. And some fetta. Do try and get a fennel salami for this, the aniseedy fennel brings out the absolute best of the earthy sweet roast beetroot. And the saltiness of the fetta makes the silky roast eggplant "sauce" come to life, so try make that a good quality one, too. I like sheep/goat's fetta, as it has a nice creamy texture, rather than a drier, crumblier one.
This was all topped off with some of the orange hollandaise sauce I made for the enoki tacos. It's seriously next level stuff to drizzle over this pizza. A decadent flavour boost. If you don't have the time or inclination to make it, serving this with a lemon wedge is a nice idea.
5-6 slices fennel salami, cut into pieces
50g Greek fetta, sliced and ready to crumble
tablespoon fresh oregano leaves
sprig thyme, leaves removed
1 portion pizza dough (my go-to is this one - halve for this pizza, or double the toppings)
to serve
orange hollandaise
lemon wedge
If you don't have any roasted eggplant and beetroot, start by doing that. Heat your oven to 175 and baked whole, scrubbed beetroot wrapped tightly in foil for 45-50 minutes until tender. Roast the eggplant for 30-40 minutes, turning over halfway, until soft. Allow to cool enough to handle, then peel the beetroot and slice.
Make your dough, if you are. Or gather your pizza bases.
Preheat your oven to 175C. Sprinkle a teaspoon of coarse cornmeal on a baking tray to stop it sticking.
Roll your pizza dough out to your desired shape. I tend to go for a rustic rectangle to fit on my baking tray. Slice your beetroot, salami and fetta ready.
Cut the roast eggplant in half and use a fork to shred out the flesh. Spread this over the base of the pizza, top with the other ingredients, adding the fetta last.
Bake for 20-25 minutes, or until the dough is golden.
Serve with a drizzle of orange hollandaise, normal hollandaise or a wedge of lemon.