We got into the (awesome) habit of having roasts almost every weekend for a while there. Given the abundance of bones, I started to make a point of using the bones to make my own stocks with, rather than just throw them out. I have a bunch of both lamb and pork stock in the freezer now for adding extra awesomeness to soups and risottos. For this pork roast, we didn't end up eating the little shank piece that came with it, nor did I salt that part correctly for crackling. So, leaving a little bit of meat on the main bone after the roast, and cutting the skin off the shank piece, I popped these bones in a stock pot and added the only flavouring items I had at that stage – onion, garlic, salt, pepper and the stalks from the various herbs I was going to put in the actual dish.
In keeping with the 'using leftovers' theme, when I peeled the potatoes, I made sure I did it in long strips, then salted them and the liberated pork skin and chucked them in the oven until they went super crispy, the pork skin turned into crackling and both made the most delicious garnish.
Then it was just a matter of boiling the stock for 40 minutes, and steaming the potatoes over the stock for the last 10 of those minutes, or until tender. Strain the stock, shred the meat from the bones and pour the stock over fresh herbs and greens, like you would in a Pho. Top with your crispy extras and chilli. Delicious!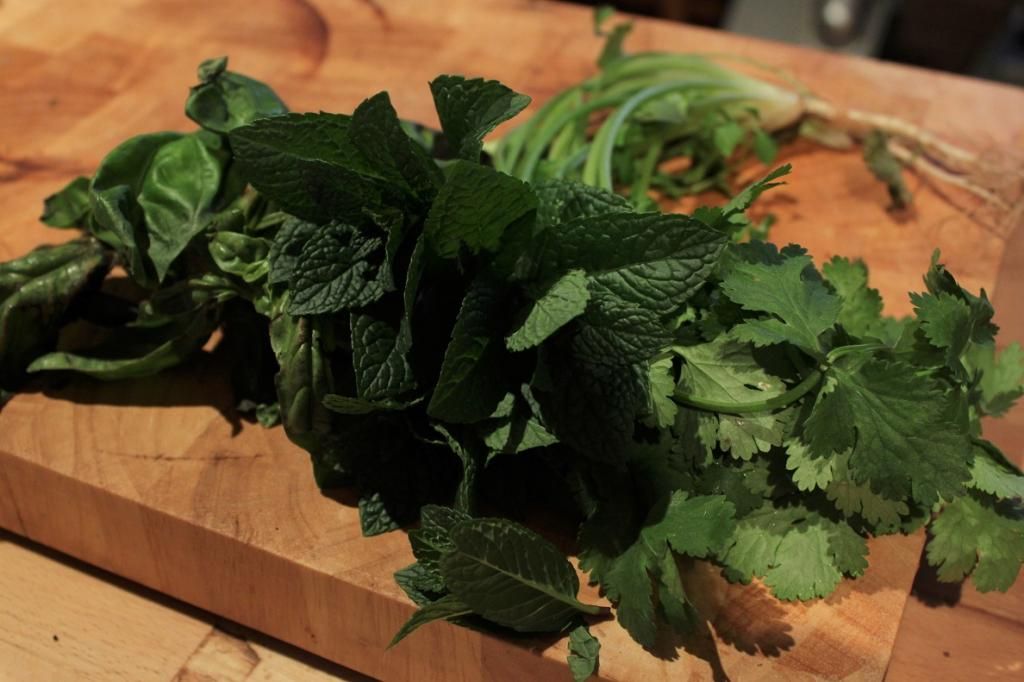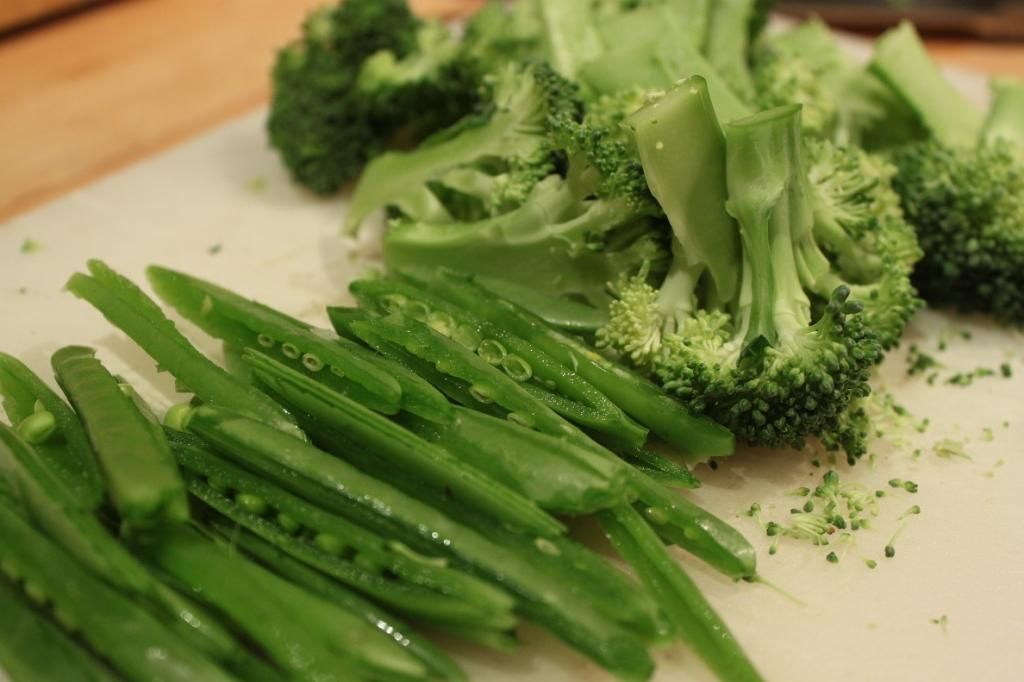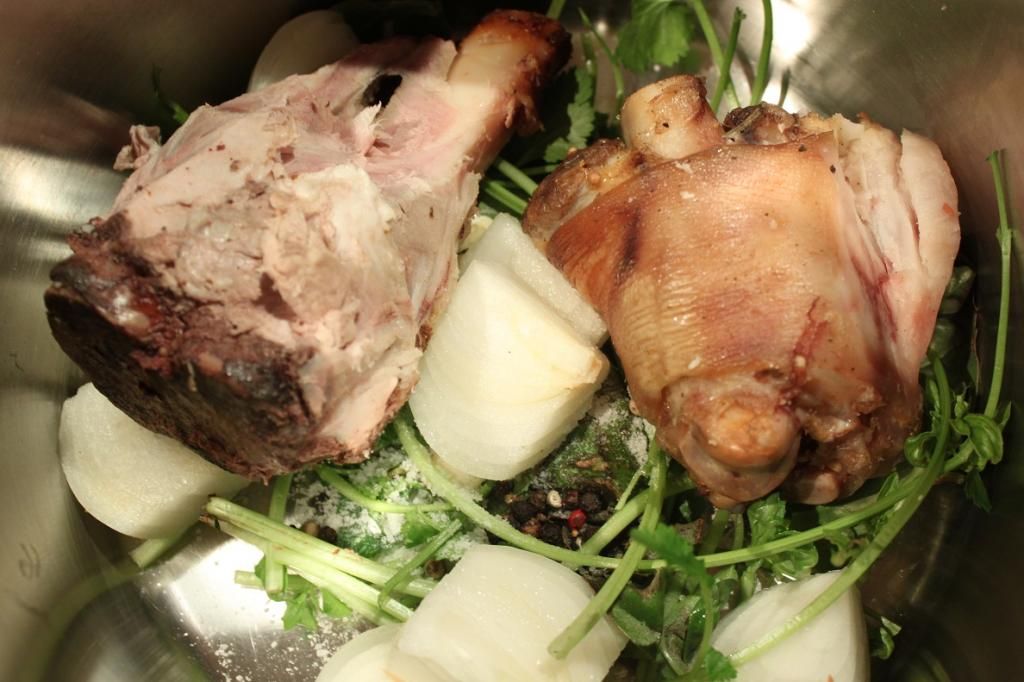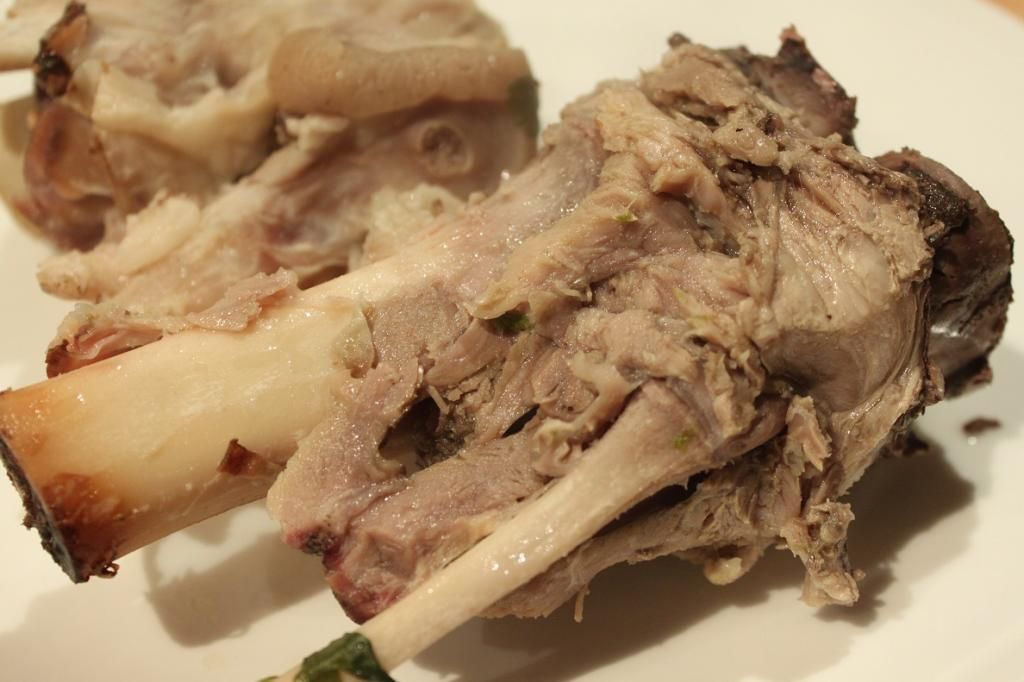 Roast Pork, Potato and Herb Broth with Crackle and Crispy Potato Skins
1 bunch mint, leaves removed
1 bunch basil, leaves removed – stalks reserved
1 bunch coriander, leaves removed – stalks reserved
one roast pork bone (with a little meat left on)
4 small potatoes, peeled and diced into 1cm cubes
one onion, peeled, roughly chopped
4 cloves garlic, peeled and squashed
¼ broccoli, cut into florets and finely sliced
1 cup snow peas, finely sliced
1 red onion, sliced for garnish
In a large soup pot, add the bone, the herb stalks, salt, peppercorns, onion and garlic. Add enough water to cover – around 2L. Bring to the boil, then simmer for 40 minutes. After 30 minutes, put the diced potato into a steamer insert over the soup pot and leave to steam for 10 minutes, or until tender.
Removed the bones from the stock and carefully cut the remaining meat off the bone. Discard bone. Strain the stock into a clean pot. Discard the other flavouring ingredients. Bring the stock back to the boil.
Divide the potato, pork, broccoli, snow peas and herbs into 2 bowls. Pour over the stock and leave to sit for 5 minutes before sprinkling the potato skins, crackling and chilli on top.