Sometimes I see trends in types of recipes that go through my foodporn news feeds and it makes me think, hmm, I've never tried that before. It's such a common dish, or component of a dish and despite being quite adventurous in my cooking, it's not something I've ever made. Or even contemplated making – like mac and cheese. Can you believe this last weekend was the first time I'd ever made béchamel sauce? As I was stirring the milk and it was magically thickening and turning into a delicious thick sauce in a way I'd never seen before, I was thinking about starting this blog. It was initially about trying new things and opening myself up to new cooking experiences, so that we didn't eat the same dishes on rote. But although the flavours I mix together are often unique and different and new, my methods of cooking haven't really evolved much.
I watched Julie and Julia on the weekend (with a large bowl of mac and cheese using aforementioned béchamel sauce to cope with all that delicious food on screen) and watching Julie debone a duck and going through the calf leg gelatin section of Julia Child's cookbook made me determined to make a few more things requiring a different cooking technique to my usual. Whilst I don't think I'll ever buy a calf leg, or possibly even debone a duck, I will definitely try a few new things.
I wrote before about being scared of roasting a duck, and that experiment turning out deliciously well. And one of the other things I've never really attempted seriously before is sauces or custards with egg. Even making ice creams I try to avoid using custard based ones because cooking eggs like that scares me. I figure I'll end up with scrambled eggs and ruin the whole thing. But I made a chocolate pavlova for Mothers' Day and ended up with a whole bunch of egg yolks and decided it was the perfect time to make a pink grapefruit curd. Again, I enjoyed watching the magic of the yolks and grapefruit juice thicken and become creamy and turn from ingredients into an actual dish. So the next step was to make a sabayon sauce. Sabayon (or zabaglione) is a light and fluffy sauce, drink or dessert made using some form of alcohol and egg yolks as the main ingredients.
Things I've learnt in these two egg-based sauce dishes is that you need to be patient at first, slowly drizzling the hot liquid into the eggs and whisking first before putting it on the heat and whisking consistently at a brisk pace. But it's definitely a trick worth trying, you really do feel there is a science behind cooking.
Given that it's Autumn and the markets are full of pomegranates, this sabayon is pomegranate flavoured and paired with one of my favourite spirits – Gin. I again used the West Winds Sabre for it's specific citrus notes, but if you can't get your hands on it, substitute Bombay Sapphire. And like my last Gin dish, it uses crab meat. I had this frozen from our very successful crabbing trip in summer, but you can generally get your hands on crab or crab meat at most supermarkets. There's something about gin and crab that just *work*, you know! I then put it under the grill to heat the crab and lightly toast the top of the sabayon. The end result is a toasty, airy, citrusy puff of rich sauce on top of the flaky crab meat. So. Good.
This was paired with a warm buckwheat salad. I think next time, I'd like to add a few plain salted tortilla chips as well, for a textural counterpoint.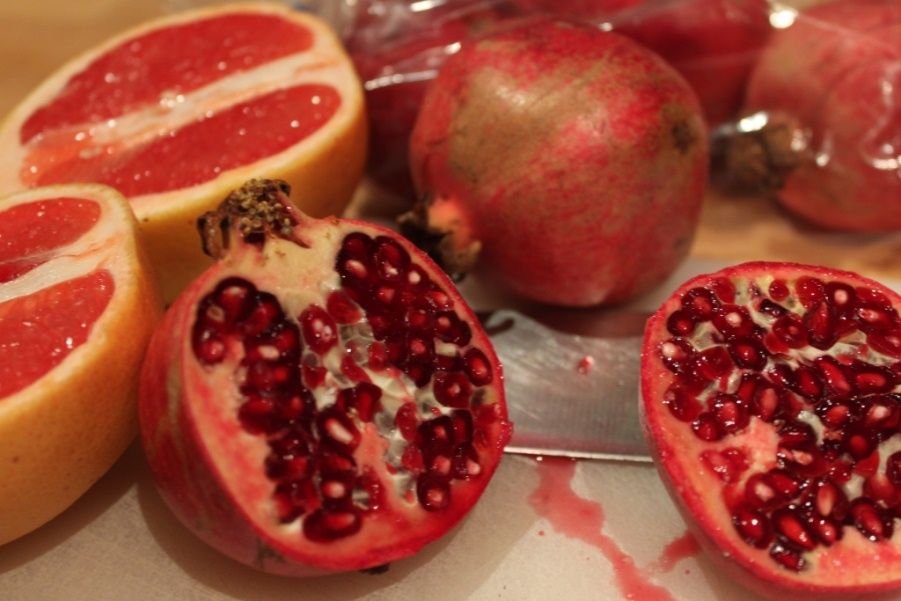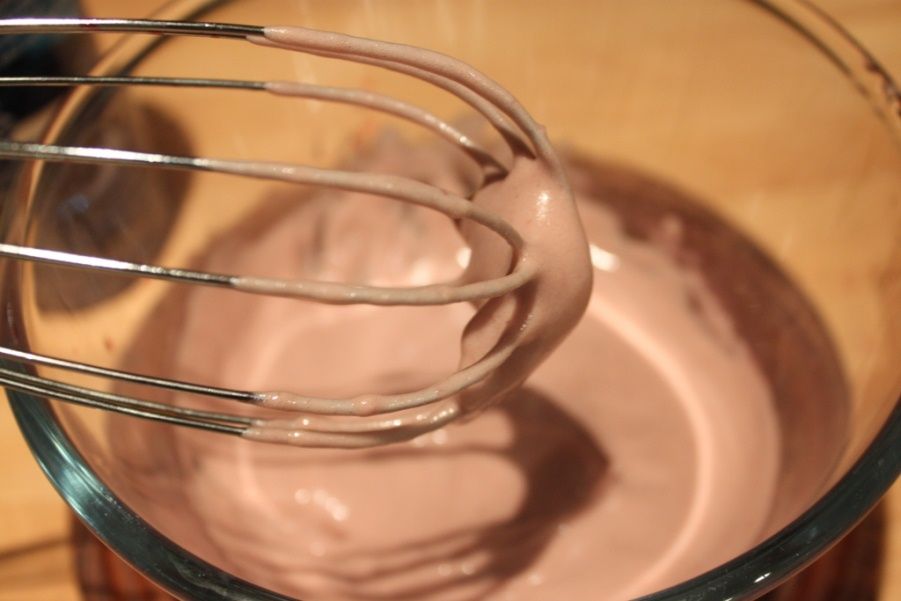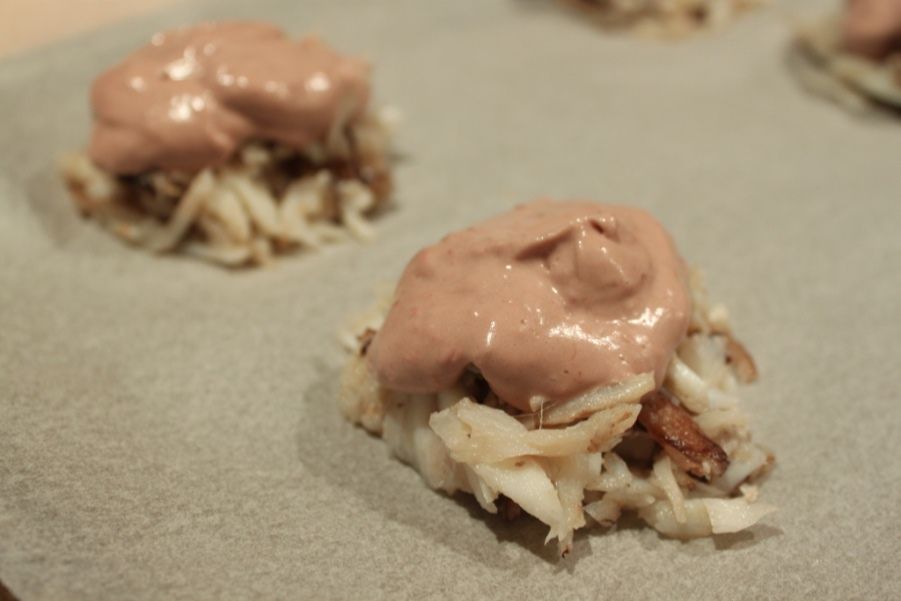 Grilled Crab with Gin and Pomegranate Sabayon
2/3 cup West Winds Sabre Gin
4 tbsp pink grapefruit juice
2 pomegranates, seeded
2 egg yolks
1/4 cup olive oil
Salt to taste
300g cooked crab meat, picked over for cartilage and shell
Seed the pomegranates and reserve ¼ of the arils for the salad. Put the gin, grapefruit juice and pomegranate seeds into a small saucepan and simmer until the liquid has reduced to about ¼ of a cup.
Line a baking tray with paper and divide the crab meat into 4. Tightly pack with your hands into patties and set aside until sauce is ready.
Once the gin mixture has reduced, strain through a fine sieve into a glass bowl that you can set above simmering water. Set a small saucepan of water to simmer. Add the egg yolks to the reduced gin and whisk briskly for a few minutes to fully incorporate, then place over the simmering water. Whisk constantly and briskly until the sauce becomes light and fluffy, the colour will turn a pretty pale purple. It'll take about 3 minutes. Remove from the heat and drizzle the olive oil into the mixture, whisking slowly for a few minutes until emulsified. Taste and season as needed. Set aside until salad is ready and you can grill the crab.
Spoon the mixture over the crab and place under a pre-heated grill for 2-3 minutes until toasted and brown.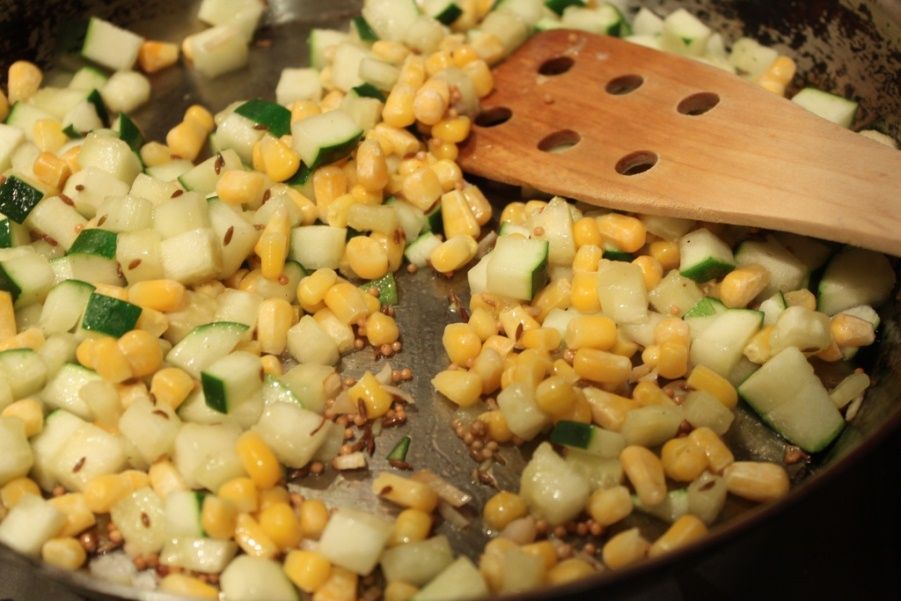 Warm Pink Grapefruit, Zucchini and Buckwheat Salad
2/3 cup buckwheat
1 ½ cup water
½ tsp salt
Big pinch fresh black pepper
Olive oil
½ tsp mustard seeds
½ tsp cumin seeds
¼ tsp coriander seeds
1 clove garlic, minced
1 medium zucchini, diced
2/3 cup corn kernels
1 pink grapefruit, segmented and diced
1 tbsp tamari
2 silverbeet leaves, stripped and shredded
1 Avocado, sliced
Handful toasted almonds, roughly chopped
¼ of the pomegranate arils reserved from making the sabayon
Put the buckwheat, water, salt and pepper in a medium saucepan. Bring to the boil, then reduce to a simmer until the buckwheat is cooked, but still chewy, around 15 minutes. Fluff with a fork and set aside.
In a frypan, heat a splash of olive oil and fry the garlic until translucent. Add the cumin, mustard seeds and coriander seeds, stir well to coat in the oily garlic mix. Add the zucchini and corn kernels and cook for 5-10 minutes until the zucchini is soft. Take off the heat.
Stir through the cooked buckwheat, tamari, grapefruit pieces and silverbeet leaves.
Serve with sliced avocado, toasted almonds and the reserved pomegranate arils on top.
Gently remove the crab with sabayon patties and serve alongside