I like the idea of Valentine's Day, because I think all things love and romance should definitely be celebrated. Love is infectious! But I find the reality is that when you have a partner, it can be more of an obligation than a loving thing. And not necessarily from your partner! Everybody judging what you've spent, how much effort has been put in. My husband and I have never celebrated Valentine's Day, instead celebrating the days that are significant to us throughout the year, and spontaneously showing our love to each other with gifts and dates. But it never hurts to show your love and appreciation to the special people in your life. Who doesn't love getting chocolates and flowers!
In the interests of spreading the love and joy and all the good parts of Valentine's Day, I am going to tell you a story with this recipe of my first birthday with my partner. Hopefully it will make you feel all warm and fuzzy inside. If I bring a smile to your face this Valentine's Day, then I will consider it successfully celebrated.
Early on in our friendship, my husband learnt two pertinent facts about me.
1
. That I was moving to Scotland (to live in a castle) and
2. That even as an adult, I still adore the movie "Labyrinth".
Fast forward about 7 months later and I moved to Scotland, briefly, before moving home again. We then started dating and moved in together. One afternoon on the couch he tells me nonchalantly that he wants to throw me a masked ball, like in the Labyrinth, for my birthday. He'll host it at his parent's house, but it will mean him moving home for a few weeks before the party so he can do the gardens up, and prepare and decorate. The set-up is to be a surprise. We plan various things for the party over the next few months, we build a Zoltar machine, we send out invitations, we make our masks. He moves back into his parents' house, and eventually the party is upon us. When I arrive, I am escorted outside. The garden has fairy lights everywhere, there is a throne for me to sit on and there are hundreds of our friends and family all in masks, looking amazing.
Then it is time for the "ceremony". He plansed an elaborate presentation (again, based on the movie) in which this wonderful gingerbread Labyrinth castle is revealed to me. The whole thing is edible (minus a few props) and reflects different scenes from the movie. Everything it is made from had special significance to us and our relationship. It took him 3 weeks to bake and assemble the whole thing, and that was working 16 hour days. He took 3 weeks off work to do it! He is not a baker or caterer or anything like that by trade, he just got this wonderfully sweet idea in his head and decided to make it happen for me. For scale, I am a touch shy of 6'2".
So now, I present to you his recipe for Castle Gingerbread. His notes for this are – heap the spoons of ginger, and best to make a double batch. Maybe you can spread the love and give your special people some gingerbread made from the heart.
Happy Valentine's Day.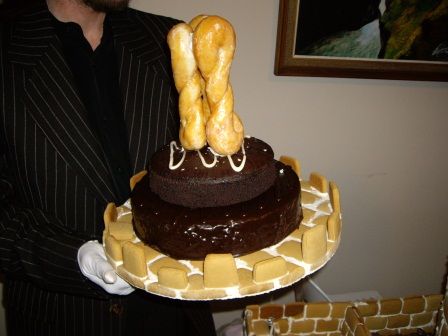 Cream butter and sugar until light and fluffy
Add egg yolk, beat well until lighter in colour
Gradually add sifted dry ingredients alternated with golden syrup
Roll out on a lightly floured surface to desired thickness, cut shapes
Place on baking paper on trays
Bake approx. 10 minutes at 180C
The 'Firies', the bog of eternal stench, the worm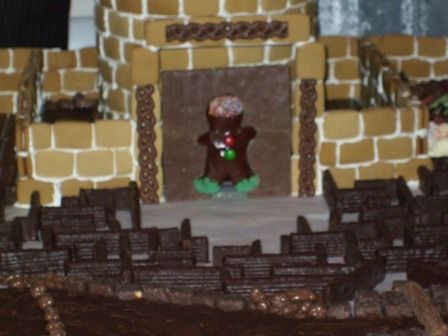 The robot door man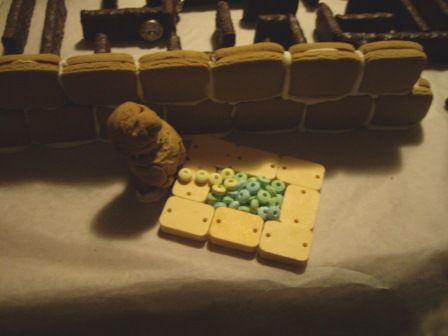 Who can forget Hoggle peeing in the pond at the start of the movie?!