My cousin told me off the other day for posting yummy stuff on my blog, instagram and facebook page and not inviting her over to eat it. So I organised a cousin's catch up to rectify that. Pretty much everything that I post are just the dishes I cook for my my husband and I day-to-day. We both love food, so I try to keep our daily meals interesting. However, when it comes time to cook for other people, I get quite anxious. I know what I like, I know what Lance likes...but what if other people don't like it? If a dish misses with the two of us, there's always grilled cheese as a back-up. You can't really do that with guests. So I get complete mental blanks when I have to decide what to cook for other people.
My two go-to styles of dishes for dinner parties are pastas and risottos. The main reason being that they're easy to cook enough to feed a large amount of people all at once. Because this dinner party was family, I thought instead of playing it safe and making a chicken and corn risotto or chicken and pumpkin risotto - two of my favourite delicious and generally inoffensive flavour combinations, I thought I'd be a little more adventurous and use beetroots to make this "red-sotto".
The first time I made this, I already had some roasted beetroots and leftover lamb from a weekend roast. I actually roasted extra beetroots after seeing a similar recipe on Potlicker and falling in love with the colour. Knowing I needed a red risotto in my life. I then stirred some shredded lamb through at the end for extra oomph. But it's delicious just as a vegetarian risotto. The beetroot really is the star here. But because the lamb/beet combo worked so well, I chose to serve it with lamb steaks on the side for my cousins. Then, because I was feeling playful, I crumbled sheep's milk fetta over the top. Lamb and sheep's milk - get it? Just like I used red onion and red wine to go with the red beets. I used buckwheat instead of arborio rice, which means it needs to cook a little bit longer and isn't quite as 'creamy', but on the positive side, you can pop the lid on and let it simmer away while you socialise.
It's a very rich, earthy dish, perfect for the current warm days and chilly nights. It also pairs beautifully with the reds we just re-stocked from my favourite winery in the entire world - Cape Naturaliste. The Cab-Sauv has a boldness that holds up to these strong flavours really well.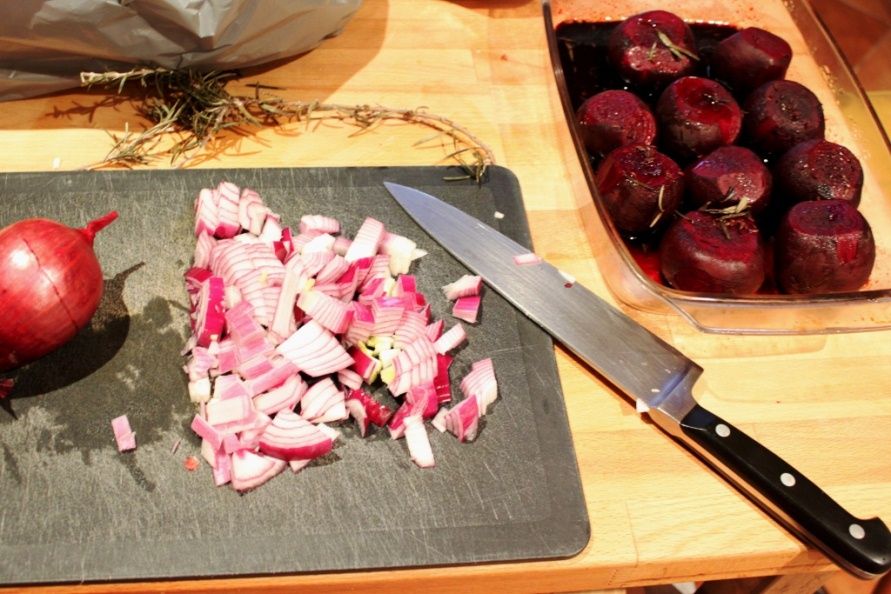 Note the stained pink fingers!
Mushroom and Beetroot Buckwheat Risotto
4-5 med red beets
splash balsamic vinegar
1/4 tsp caraway seeds
8-9 small field mushrooms
2 tbsp olive oil
2 cloves garlic, minced
1 large red onion, diced
1 tbsp finely chopped fresh rosemary
1 tbsp finely chopped fresh sage
1 cup buckwheat
1 cup water
3 cups vegetable stock
1 cup red wine
1 tbsp butter
sheep's fetta to serve
Preheat the oven to 175C. Trim the tops and tails of the beets, place in a roasting tray, splash with balsamic vinegar and caraway seeds, then cover tightly with foil. Roast until tender, about 45 minutes. Allow to cool.
Heat the oil in a suitable risotto pan, then add the onion, garlic and a pinch of salt. Cook until the onion is translucent, then add the herbs. Stir well until fragrant, then add the buckwheat and stir to coat each grain in the oil and onion mixture. Should take a few minutes.
Add the wine and cook while stirrying until the wine is absorbed.
Put the mushrooms in a food processor and pulse until roughly chopped, stir into the buckwheat mix.
Peel the beets and place in the food processor with 1 cup of water. Puree until mainly smooth. Stir this into the buckwheat mixture, cooking until the liquid is absorbed.
Your choice here is to then cook like a traditional risotto, adding a little stock at a time. Personally, I added all of the stock, covered with a lid and simmered it for 30 minutes untl the liquid was all absorbed. Opening here and there to stir and check that it had sufficient stock.
At the end, stir through 1 tbsp butter to make it all glossy and serve with the sheep's milk fetta. Also pictured here, lamb steaks and a dressed kale salad.