Happy WA Day holiday! My husband works on public holidays, so I play the single lady after he leaves for work. I sleep in until a leisurely hour, get up and make things that I like for breakfast that he doesn't necessarily agree with. So in honour of that luxury, I will do a post in real-time! Being a public holiday, I don't want to put too much effort in. And being the second day of winter means it needs to still be satisfying comfort style food. Something I can eat from a bowl, snuggled up on the couch, flicking through cook books.
I love sweet pumpkin dishes. Pumpkin Pie, Pumpkin and Maple Bacon Muffins, Pumpkin Spice Marshmallows and all that. Love it. Lance isn't the hugest fan. Nor does he particularly like porridge. So this dish is all me. I have some pumpkin puree from making a pumpkin mac and cheese a few days ago so this dish all came together in the time it takes to make the porridge and boil the kettle for my coffee.
I'm sure you've all made porridge before, so I'll leave it to you to cook it the way you do. Personally, I like to cook my oats in water (or coffee) with a pinch of salt and add milk or butter (or both!) once it's cooked. You can sub the butter for coconut oil, or coconut cream for a delicious vegan version of this dish.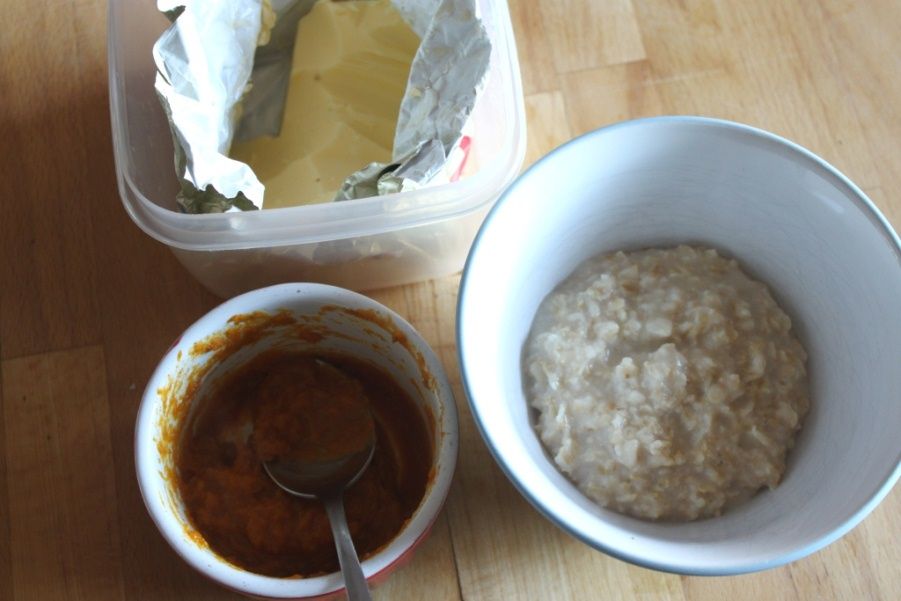 Pumpkin Spice Porridge
(serves one)
1 cup cooked porridge (made from 1/3 cup rolled oats)
3 heaped tablespoons pumpkin puree
1/4 tsp ground ginger
1/4 tsp ground cinnamon
pinch ground nutmeg
1 tsp maple syrup (plus an extra to drizzle if desired)
1 tsp unsalted butter
6-8 crushed walnuts
Cook the oats to by your preferred method.
In a small dish, mix the pumpkin, spices and maple syrup. Microwave for 1 minute to heat the mixture.
Stir pumpkin mixture and butter into porridge. Top with crushed walnuts.