I don't tend to eat potatoes very often. As in, normal, white potatoes. And it's not because of the bad-wrap they got in the carb-hating phase that swept the world. I'm just not a big fan of them. Unless they're roasted, I tend to find them pretty boring. A sweet potato I can microwave or boil and eat without anything else done to it. A white potato for me always needs a little extra help. I know other people will disagree with me. I know some people love them. That's the brilliance of difference.
I did have a few potatoes left over from when I bought them to do a roast (because then they are an absolute necessity), and when I was given some lamb chops by a wonderful friend of mine (from her parents' sheep farm, no less!) I thought they could be the perfect side. One of my favourite ways of preparing potatoes is this combination of fry/boil in a pan. I'm sure there's a technical term for this type of preparation, I don't know what it is. I just know that it's easy and results in extremely flavourful potatoes. It also means that I can cook lentils in with it in the one pan.
Whilst you can serve these potatoes with any other meats and veg you have on hand I think this combination works extremely well. The caramelized sweet grilled figs, the rich juicy lamb and the salty creamy textured potatoes just….work, you know? The potato was enough to serve two for dinner and me for lunch the next day. The accompaniments were just for the dinner.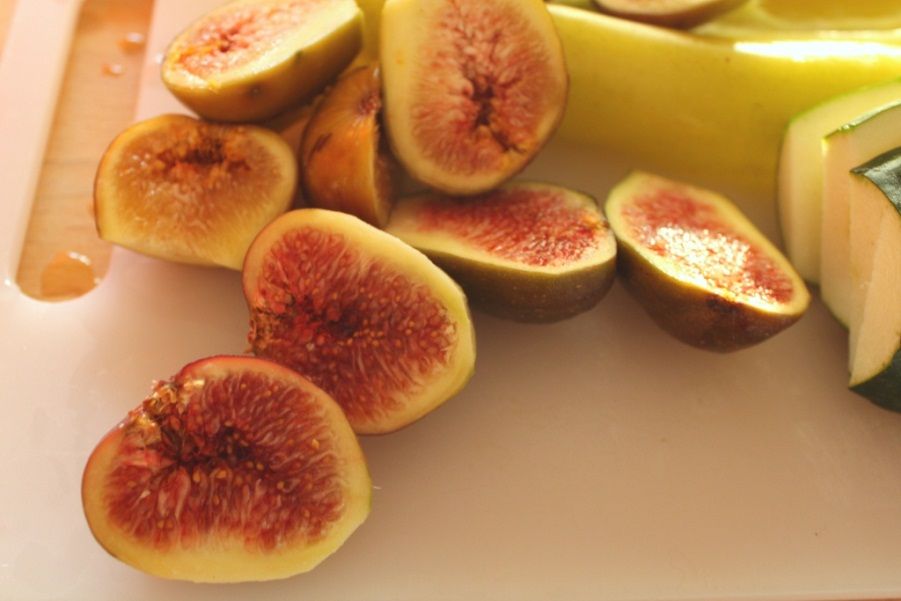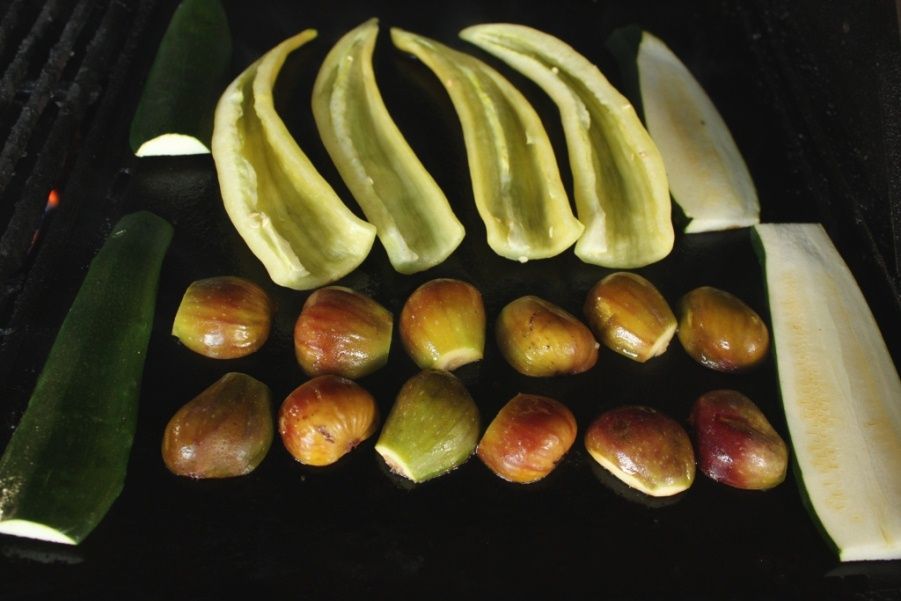 Diced Potatoes with Lentils and Olives
5-6 baby potatoes
1 tbsp olive oil
1 clove garlic, minced
1 sprig rosemary leaves, minced (about 1 tbsp)
¼ cup uncooked French lentils (du Puy lentils), rinsed and picked through
1 cup water
½ tsp sea salt
Good few pinches of black pepper
6 olives, de-pitted and finely sliced
Sprinkling flat leaf parsley, chopped
Splash of grapefruit juice (or lime)
4 Lamb chops
4 Figs, halved
1 Sweet paprika, halved lengthwise, core removed
1 Small zucchini, sliced into 1cm slices, lengthwise
Peel and dice the potatoes into 2cm chunks. In a high sided frypan with a lid (or a makeshift lid of aluminium foil), heat the olive oil to medium heat. Add the garlic and rosemary and cook until fragrant, 1-2 minutes. Add the potatoes and lentils and stir well to coat in the garlicky oil for about 2 minutes. Crack some pepper over the top to taste. Add the water and sea salt, mix through and turn the heat up to bring to the boil. Once there, turn down to low, cover with the lid and allow to cook until the lentils and potatoes are tender – around 25 minutes.
After about 10 minutes, heat your BBQ, lightly oil and grill the vegetables. Place the figs cut side down and don't turn. The zucchini and paprika need to be turned after about 5 minutes on each side. Grill the lamb to your liking, I do mine about 3 minutes either side for a touch of pink in the middle.
When the potatoes are ready, turn the heat off and stir through the olives, parsley and a splash of grapefruit juice to 'brighten'. Check for seasoning.